In the ever-expanding and often-confusing world of online retail, knowing a little bit about the process of how the cremation urn that you're interested in purchasing gets made, shipped, and delivered to your door will help you make an informed decision and avoid unwanted headaches.
1. Our Urns Are Shipped Within 1-5 Business Days
Most of our urns are made to order within 1-5 business days after your purchase. Occasionally the urns are already in stock, in which case the cremation urn is shipped immediately, but most of the time (especially with our extremely popular wood urns), the urn is built specifically for you. The crafting process usually takes around 1-5 days depending on how busy we are.
2. Our Urns Can Be Personalized
If you wish to personalize the urn with a brief engraved inscription, this can usually be done in about 1 additional business day. Expedited orders with engraving can be arranged. For more info on ways to personalize an urn, view our Urn Customization help page.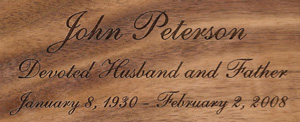 3. Our Urns Can Ship Free
We offer free ground shipping on all orders over $100. If you choose this option, on average it will usually take 3-5 days for the urn to be built (and custom engraved, if you so choose), and then an additional 3-5 business days to ship to your door. This results in an average total time of about two weeks (and sometimes less) from the day you order to the day you receive the cremation urn.

4. Our Urns Can Ship Expedited
Some of our cremation urns, such as our clock urns or most of our companion urns, almost always need to be made to order. Many of the rest can ship on the same day or the day after you order, via Overnight or Next-Day Air, 2nd Day Air, 3rd Day Air, or even (for some cities) Next Day Air Early AM. Be sure to check out our shipping policies page for more info.
If you need an urn immediately, please contact us to see what arrangements can be made. We'll do all that we can to get the exact cremation urn you want delivered to you when you need it. Often, we can even have an urn engraved and shipped out to you on the same day for next day delivery.
5. Exception: Custom Urns
If you would like an urn built to custom specifications, or if you are ordering a custom ceramic art urn, these often take longer (sometimes up to 3 weeks) to create. For more info, please feel free to contact us.
6. When In Doubt, Call!
We appreciate and value your phone calls, live chats, emails, and even text messages. If you have a question about the details of an urn, or whether an urn can be made and shipped to you in time for a memorial service, or if a photograph can be engraved, or if you have questions about how the urn is to be used, contact us!